Map
The Project Location Map provides a visualization of where your projects are located on a map. Project filters can be used to help manage project data that is displayed. You can also interact with the map using the zoom and pan functionalities.
The Map feature now has its own dedicated tab in the main navigation bar for the desktop site.

Note: Only addresses in the USA, Canada, UK, Australia, and New Zealand will populate on the Project Location Map at this time.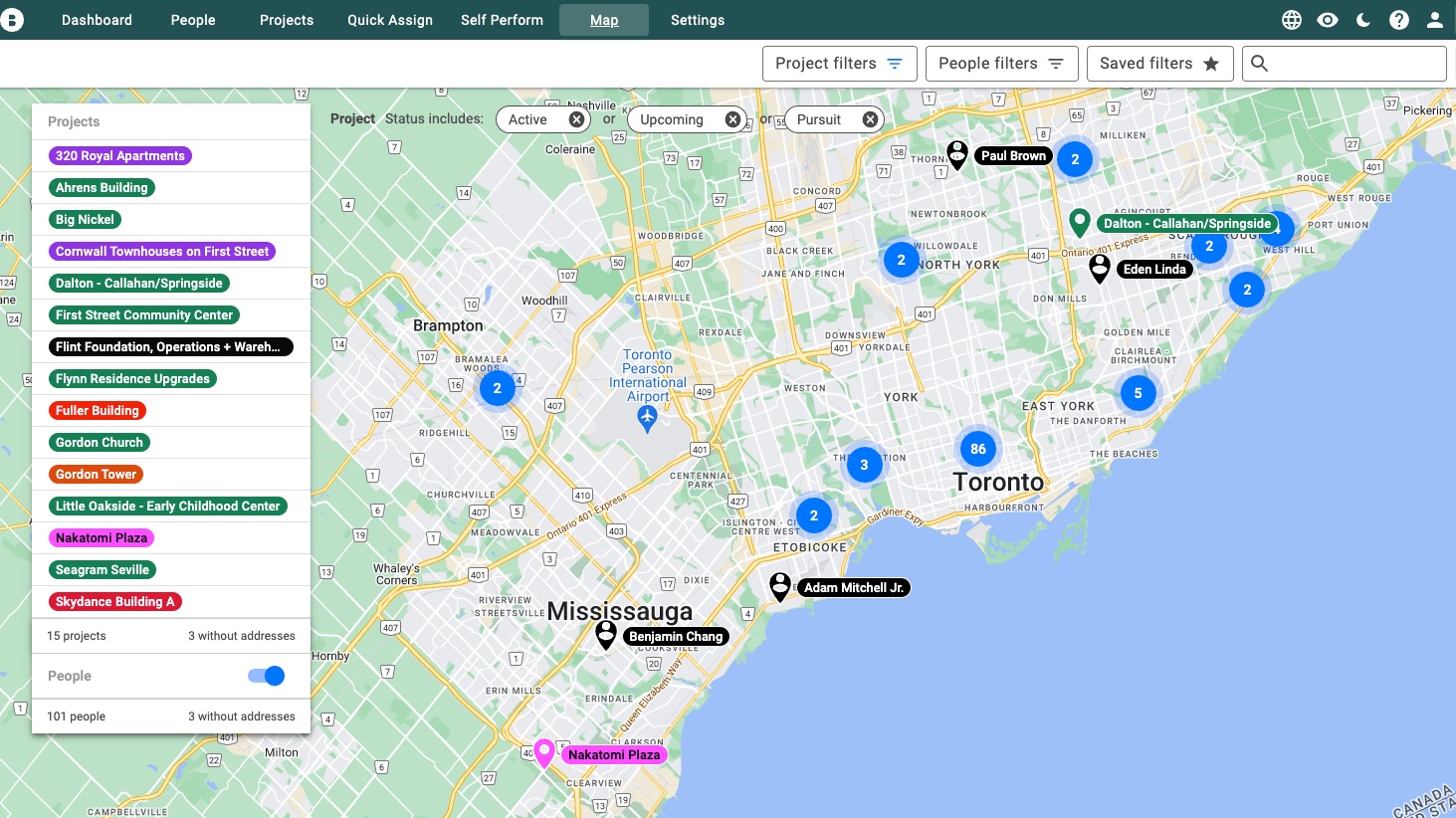 Table of Contents
Project Address
For a project to appear on the map, it must have a resolvable address entered into the Address field of the project.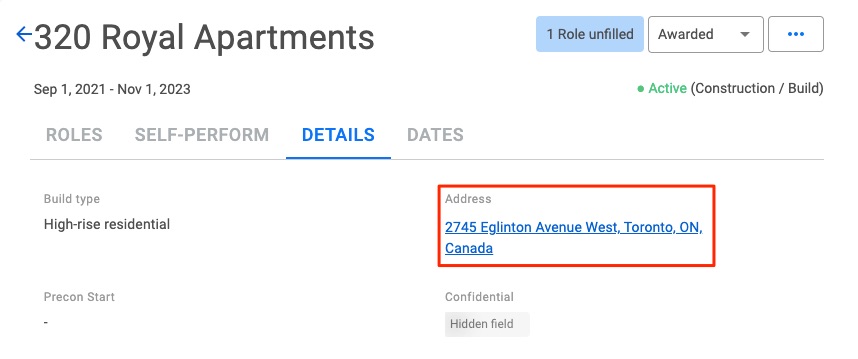 Filtering Projects in the Map View
Project Filters can be applied to narrow the number of jobs that appear. Filters applied under the Projects List or Gantt will carry over to the Project Location Map.
Project List in the Map
Within the Map view, you will find a list that is sorted by project name. The list updates based on the projects that are in view. There is a count of:
the number of projects in view
the number of projects without addresses based on the project filters applied (won't be displayed in the map)
Hovering over a project name highlights the project marker in the map. Selecting a project will launch the Project Details window.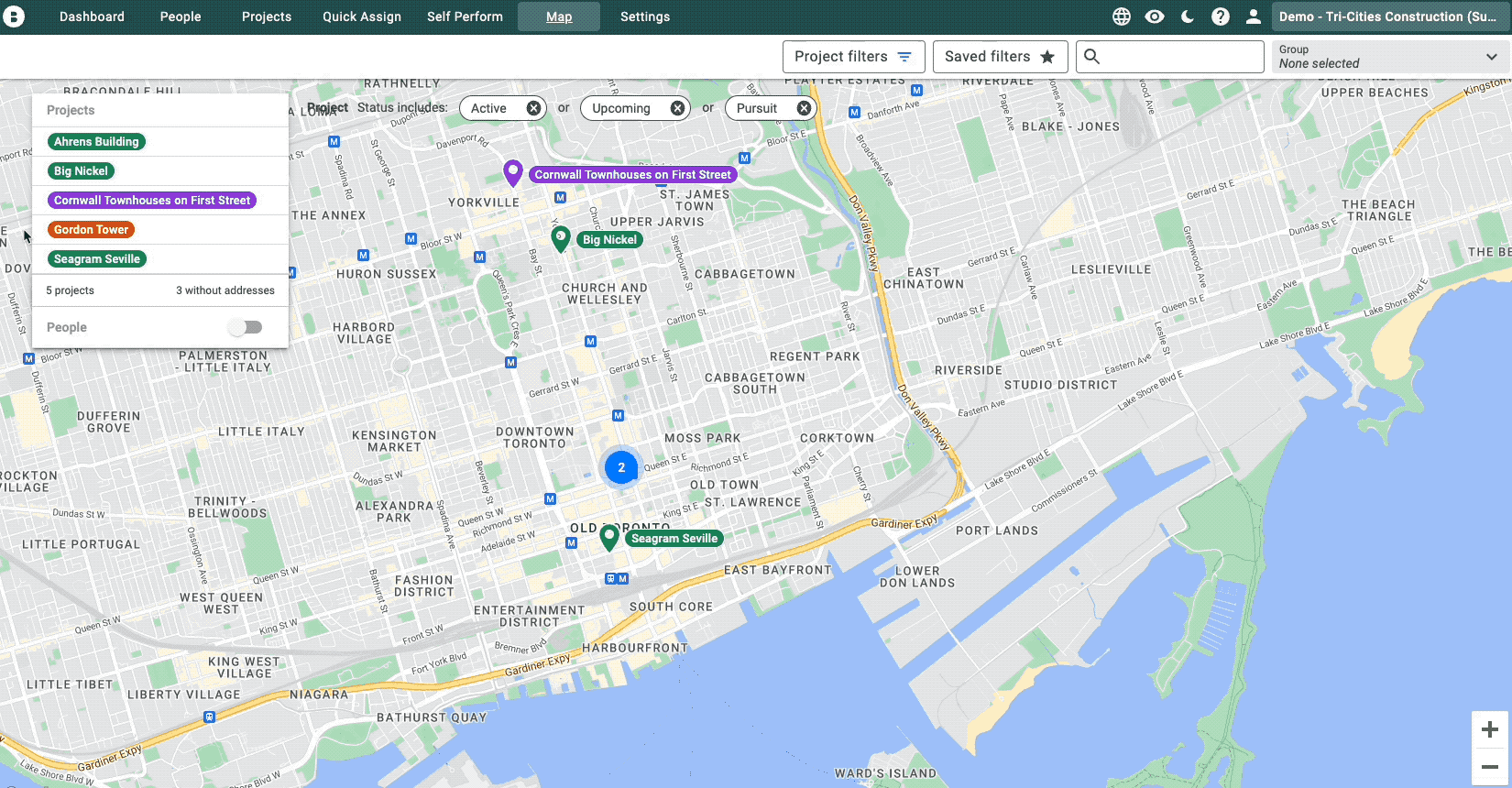 People on the Map
When selecting Map for the navigation bar, you'll now see a new 'People' toggle at the bottom of the list on the Map. People will display by default. The number of people in view, as well as the number of people who cannot be displayed due to a lack of a resolvable address associated with their profile, will also be viewable.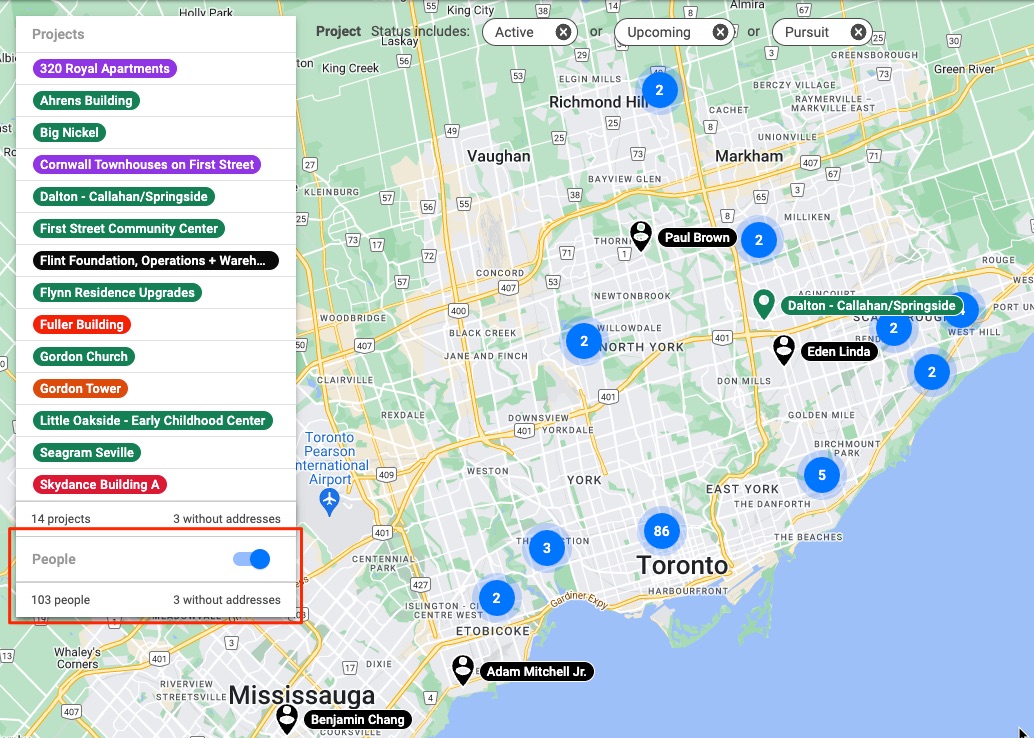 Note: The entry in the 'Home Address' field associated with a profile is what is used to determine a person's location on the Map. In the event an account has marked the 'Home Address' field as Private, only users with permission to view private fields will have the ability to view People on the Map.
Clusters
Selecting a cluster that includes 20 people or less, will now launch a popper that displays the projects/people within that cluster. This provides insight into what projects/people are within that area, without needing to continually zoom in to see what makes up a cluster.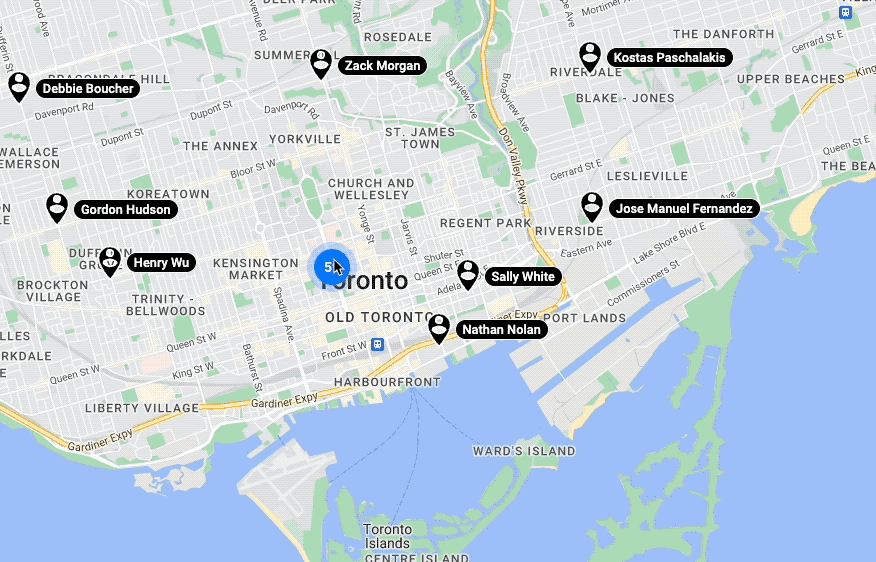 Filters & Search
When the People toggle is ON in the side panel:
The option to apply People Filters will appear alongside Project Filters. Any filters applied to the Map will be remembered per user, however, will not carry over to the Project & People tabs.

When Search is used, it will be looking at both People and Projects
When the People toggle is OFF in the side panel:
The People Filters option will disappear

Any previously applied People Filters will automatically be re-applied when the People toggle is ON again.

Search functionality will only include Projects when used