Certification Tracking helps keep it simple
Track certifications with Certification Tracking in Bridgit Bench. Users with Administrator privileges can create a master list of certifications and set warning date ranges to be notified well in advance of a certification expiring.
Add the certification to a person's profile and set the expiration date for their certification. As the certification's expiry date approaches, warnings will appear.
With Certification Tracking in Bridgit Bench, attach the file directly to the person's profile under their certification record.
Table of Contents
Add a New Certification
Go to Settings > People > Certifications.
Select the icon to create a certification.
Set the Expiration Date Required and the Expiration Warning Range if needed. Then select Save.

Assign Certifications to a Person's Profile
Go to the person's profile.

Select View Certifications in the side panel.
Select Add certification.
Select a certification from the dropdown menu. Add an expiry date if needed.
Select Save.
Understanding Certification Color Validation
1. Certifications highlighted in gray mean they are still valid.
2. Certifications highlighted in orange mean they fall within the Warning Range set for the certification.

3. Certifications highlighted in red mean they are expired.

Viewing Certifications in People List View
1. The Certifications column must be toggled on under View Columns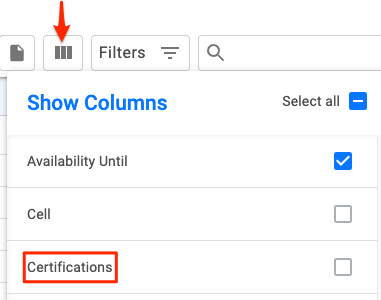 2. Certification abbreviations are displayed and are color-coded in a similar fashion as outlined above - Gray (valid), Orange (warning range), Red (expired).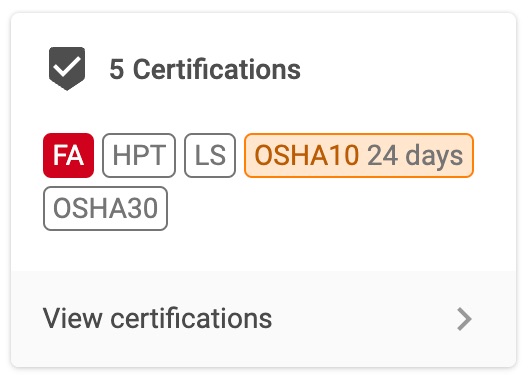 Where applicable, you may see the number of days remaining on for a certification before it expires (orange warning range).
Filtering Certifications
1. Select the

icon.
Filter by specific certifications or filter by those Expiring soon and/or Expired:
Adding Attachments
1. Navigate to the View certifications side panel in the person's profile.
2. Select Manage attachments.
3. Add an attachment to the certification (click and add or drag and drop).
Note: Certification attachment max file size is 1 GB