Projects and project opportunities in a central location
Bridge the gap between you and your business development by tracking your project opportunities in Bridgit Bench with Pursuit Tracking. Bridgit Bench helps general contractors, subcontractors, and self-performing contractors manage all their project bids while providing a comprehensive view of project timelines and workforce allocations.
Table of Contents
What are Pursuits in Bridgit Bench?
Pursuits are opportunities for potential projects. This feature allows you to add projects as an Opportunity and plan project teams without impacting the utilization or availability of their staff.
You also have the option of entering a Pursuits Win Percentage. This will allow you to track the perceived likelihood of a pursuit project being awarded. The Win % field is only available when the project status is "Pursuit" and will automatically be nulled out when moved to "Awarded".
Learn more about reviewing Pursuits here.
If an opportunity is won, you can update the project from Opportunity to Awarded. This will make the project live and will assume the current date-dependent status (ie. Active, Upcoming, Complete).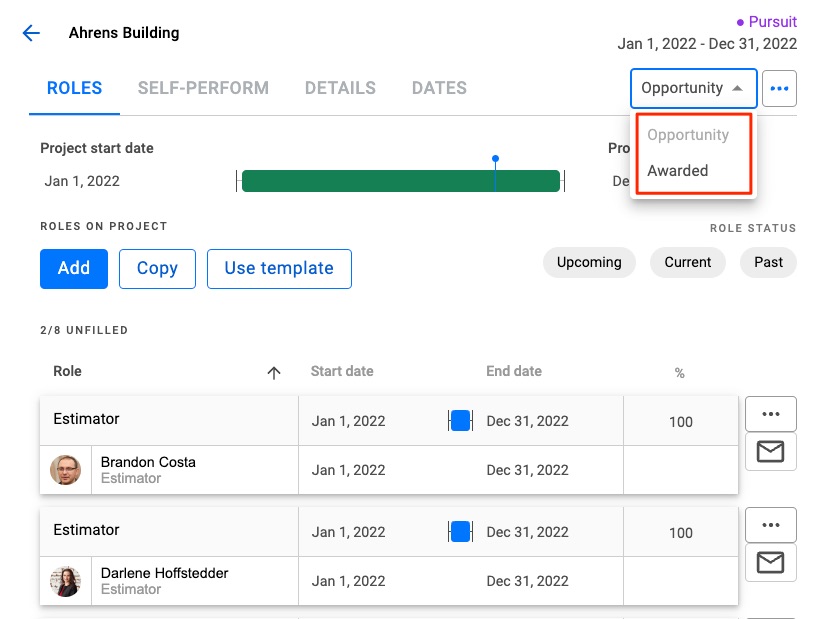 Opportunities can be updated to Lost or deleted with the More button: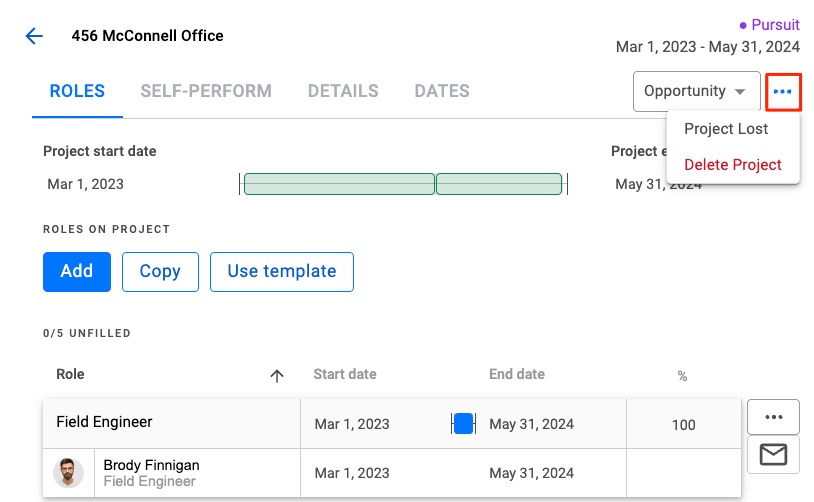 Handling Opportunities and Awarded Projects
More info on canceling awarded projects. Canceled projects can be reactivated at any time.
Note: Deleting a project removes all project data and is a permanent action and cannot be undone. Learn more about deleting projects here.
If a project is added as an opportunity, the project status will be "Pursuit". If the opportunity is lost, the project status will appear as "Lost".

How to Create an Opportunity
Opportunities are created by selecting Opportunity under the Type dropdown during the normal Add Project workflow:
How to Enable Pursuits
You can reach out to Bridgit Support (support@gobridgit.com) to enable Pursuits. Alternatively, a support request can be initiated by submitting a ticket here.