The Place a Person tool is available to help ensure the best people are selected for a role and project. Bridgit Bench predicts the best person to fill a role based on past project experience.
Place a Person
Select the requested project and scroll to the role that needs to be filled.
Click on Place a person in the unfilled role to open the Place a Person window.

From the Project Gantt view, the unfilled role appears as a blank segment.
From the Project List view, the unfilled role appears under the Roles tab.

Select the best person for a role. Use the search bar or apply additional filters if the required person doesn't appear.

An Availability message appears if the person doesn't have full availability. Through this window, you can select how to proceed with allocation.

Click Save to confirm.
Some people might have an orange circle beside their Time Availability, which indicates that a person does not have the required allocation % available for the role. People with no potential allocation availability conflicts are assigned a green circle.

The following video takes a closer look at the Place a Person modal. It demonstrates how you can search by name and you can also click the grey time availability bar to determine what project a person is already on.
Filtering
When looking for a person to place on a project, you can filter your list by all useful people fields such as Region and Certifications. This can be done by clicking Add Filters.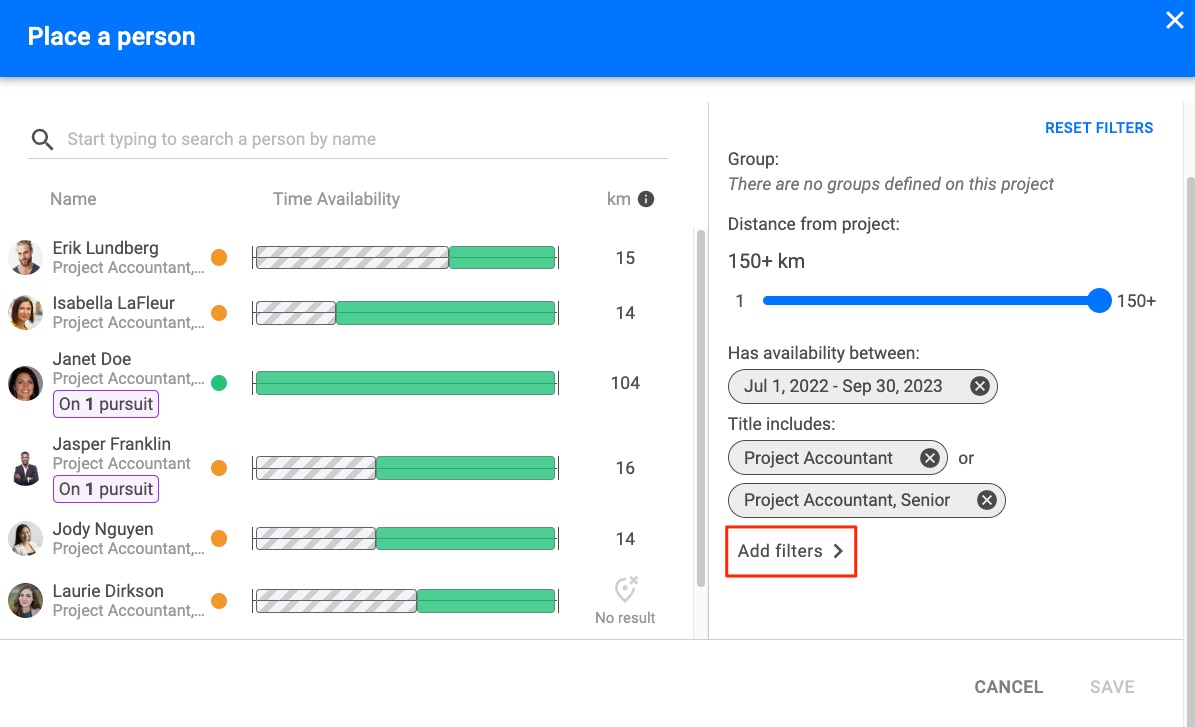 The following video demonstrates filtering by a custom people field (in this example, "Willing to Travel"):
The following video demonstrates how to add, clear, and reset filters within the Place a Person modal: