You can easily filter the data that is displayed under your Projects List view. Bridgit Bench will maintain any applied filters when toggling between the List and Gantt views.
Saved Filters are another option to improve efficiency by allowing you to quickly apply filters that are commonly used.
Table of Contents
Projects > List
Projects > Gantt
Filtering Tools
You can utilize the following tools to further filter what is displayed:
Columns in the List view can be re-ordered by dragging and dropping them to the desired locations.
Projects > List
Default Projects List View
When filters are reset, the List view will default to Status includes: Active or Upcoming or Pursuit.
Adding & Removing Project Filters
Click the Filters button and + Add Filter to select the filters of your choice and click Apply.
When filters have been applied, you can click the corresponding black X to remove them one at a time or click Reset Filters to clear all of your filter selections:
Saved Filters
A specific group of commonly used filters can be saved with this feature.
After applying filters, click the Save Filter button.
The "Create Saved Filter" will open. Add a unique name that describes their saved filter.
After the filter is saved, you can access it at any time using the Saved Filters button.
You can delete a saved filter by clicking the Manage Saved Filters button inside the Saved Filters menu.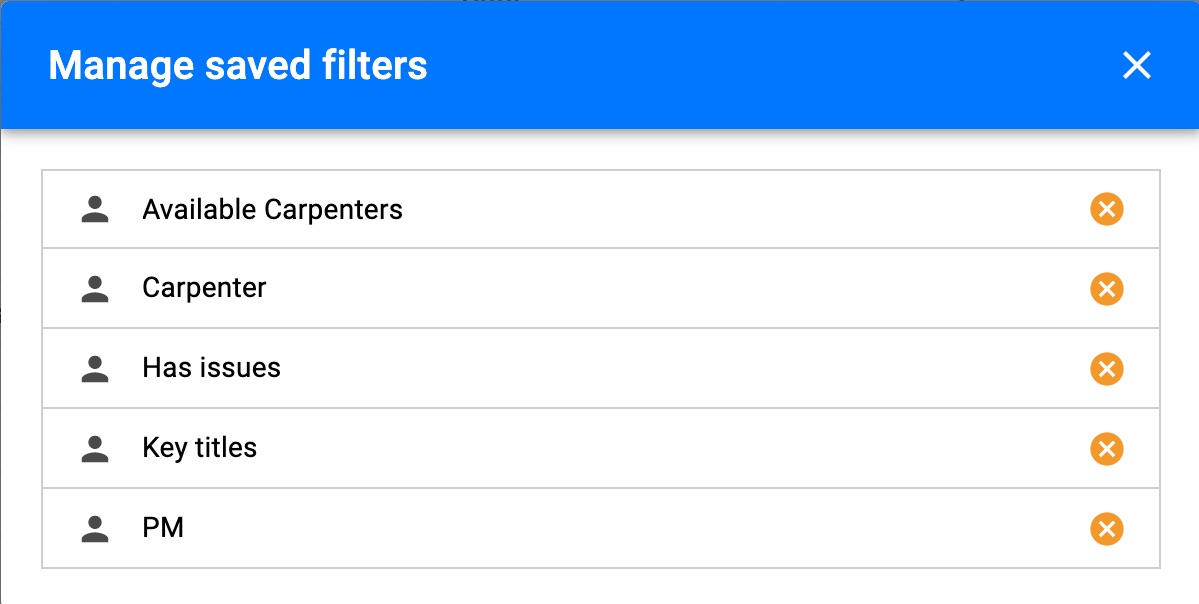 Projects > Gantt
Adding Filters
You have the same capabilities under the Gantt view as well. Below is a demonstration of how to filter projects by Allocated People, which quickly isolates all of the projects an individual(s) has been allocated:
Customize Project Gantt View
You can customize the Project Gantt view to help condense relevant information with the Gantt Settings. Any applied filters and customizations you make in the Gantt Settings panel will be reflected in your Gantt reports. Learn more about managing the Gantt Settings here!
The Project Gantt Settings will only filter roles. Project Filters can be used to filter project data.
For example, if you want to see "unfilled roles" only on projects that contain unfilled roles, filter Projects > Roles > Unfilled Roles and Gantt Settings > Unfilled Roles.