Project statuses in Bridgit Bench are system-generated and cannot be customized. All project statuses can be filtered as needed with Status filters.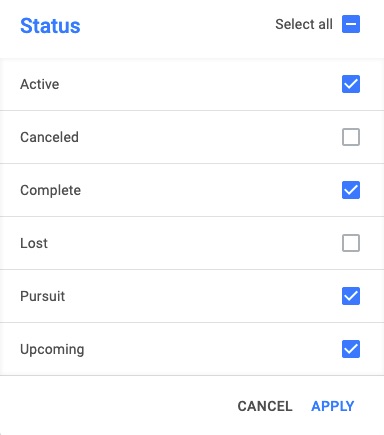 Opportunity and Awarded Projects
There are two project types: Opportunity and Awarded. If an Opportunity is won, it can be moved to Awarded and that will make the project live:

For more information on Opportunity projects see Pursuit Tracking Overview.
Awarded Project Statuses
| | |
| --- | --- |
| Upcoming | The project is awarded and the start date is in the future. |
| Active | The project is awarded and today's date falls within the project's start and end dates. |
| Complete | The project is awarded and the end date is in the past. |
| Canceled | The project is awarded but canceled by users. |
Note: Deleting a project permanently removes all project data and this action can't be undone. Deleted projects can't be viewed or filtered.
Opportunity Project Statuses
| | |
| --- | --- |
| Pursuit | The project is marked as an opportunity and has not yet been awarded. |
| Lost | An opportunity that was marked as lost by users. |
Tip: Change the Status filter if a project cannot be found in the List or Gantt views. The Status default displays only Active, Incoming or Pursuit projects. Any other projects that have a different status will not be viewable.