Bridgit Bench can help to increase collaboration within your company, allowing access to everyone involved in your company's workforce planning process.
Administrators can send an invitation email to add users to Bridgit Bench.
Settings > Accounts > Users

The following sections can be found under the Account Settings in the Users tab:
Invited Users - users that haven't yet accepted invitations.
Active Users - users that have accepted an invitation and can access the project.
Invite a User
Select the Invite User button to add a new user to the account.

Users must be invited one at a time.

Enter an email address and select a Permission Group.

Users can be assigned either Administrator, Full Contributor, or View Only access.

Select Send.

When a user is invited, an invitation email is sent to their email address with an embedded link to join Bridgit Bench.
The invitation link is valid for seven days after which it expires and must be re-sent by an Administrator.
Here is an example of what the Bridgit Bench invitation email looks like: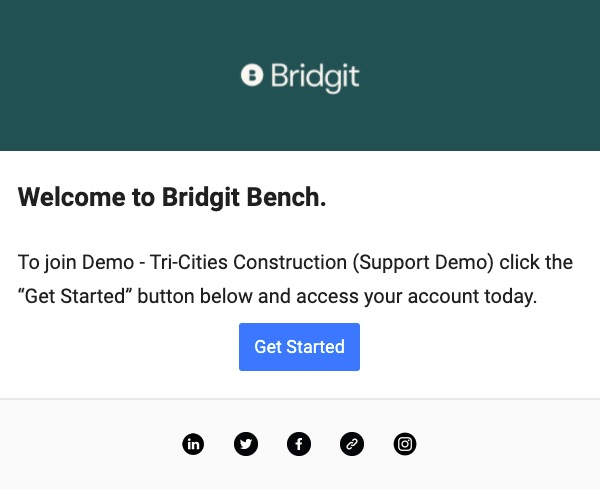 Note: If the user has not received the email in ten minutes, please have them double-check the junk/spam folder to ensure it was not filtered out of their inbox. If the email does not arrive, please reach out to support@gobridgit.com.