Bridgit is moving all accounts to a new authentication platform, providing more flexibility for user logins to Bridgit Bench. Bridgit Support will get in touch with your team's technical contact(s) to explain how the process will work.
While the migration is underway, you won't be able to access Bridgit Bench with your current user account. Once the migration is finished, you will receive a new invitation email via Bridgit Bench Mailer (noreply@gobridgit.com) enabling you to log back in.
Accepting the new invite will allow you to log in with one of the following authentication types:
SAML authentication
OAUTH2/OpenID (such as Microsoft or Google)
Username & password
Accepting a New Invite
An invitation will be sent to your email address that was on the Bridgit Bench account(s).
Log out of Bridgit Bench before you accept the new invitation
Open the invitation email with the subject line "You're invited to join [account name] on Bridgit Bench"
Click the Get Started button
Select "Enterprise Login" as the login option if you see any options presented
Grant access for Bridgit Bench to your authentication provider when prompted
Enter all required info on the "Create your Account" screen and click Sign Up
Logging into Bridgit Bench
After accepting the new Bridgit Bench invitation, you can log in with the following link:
There are a couple of options for authentication moving forward: Enterprise Login or Single Sign-On
Enterprise Login
Select the Enterprise Login option and enter your company's Bridgit Bench Organization Name when prompted.
Your company's Organization Name will be provided to you through your team's technical contact or Bridgit Support.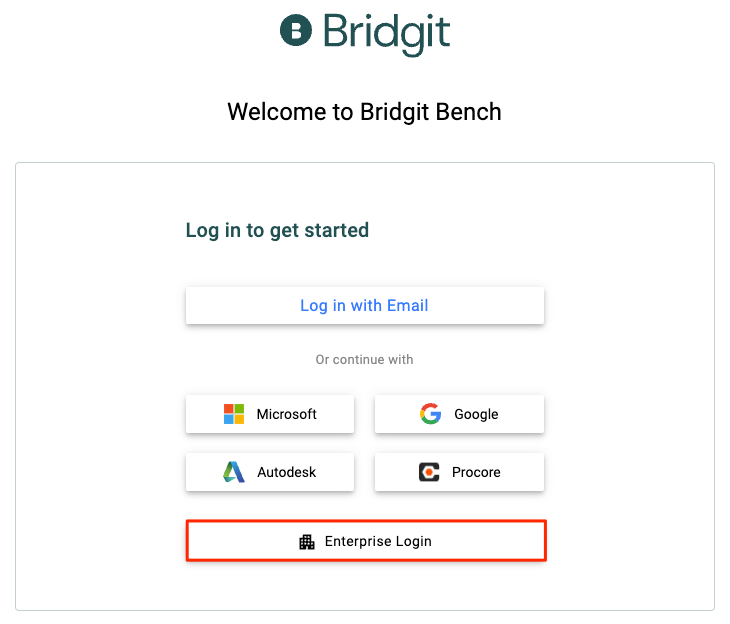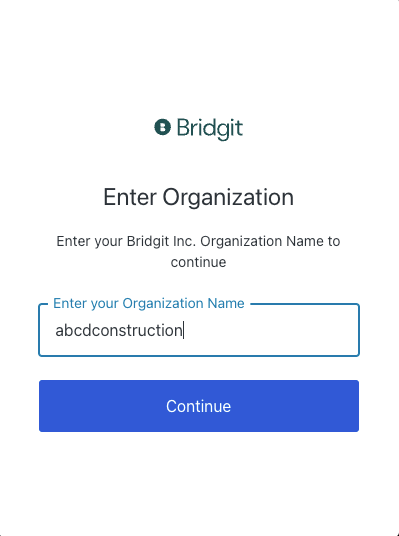 Single Sign-On (SSO) Login
Bookmark and use the SSO link provided by your technical contact or Bridgit Support. Here is an example of an SSO link:
https://bench.gobridgit.com/auth/v2/login?organization=org_xCT8ooVcJFxtABQl
The bolded part of the above link is the Bridgit Bench Organization ID.
Your SSO link will not be functional until the migration is complete and the new invite has been accepted.