Bridgit Bench supports workforce planning for preconstruction teams. The Precon feature helps streamline teams and increases transparency within your workforce.
See Precon Overview for additional info on the Precon feature.
Table of Contents
Projects List
With a project open, you will see a "Precon" tab. Bridgit Bench will remember what tab you were on so precon team members don't land on the Operations tab each time they visit a project.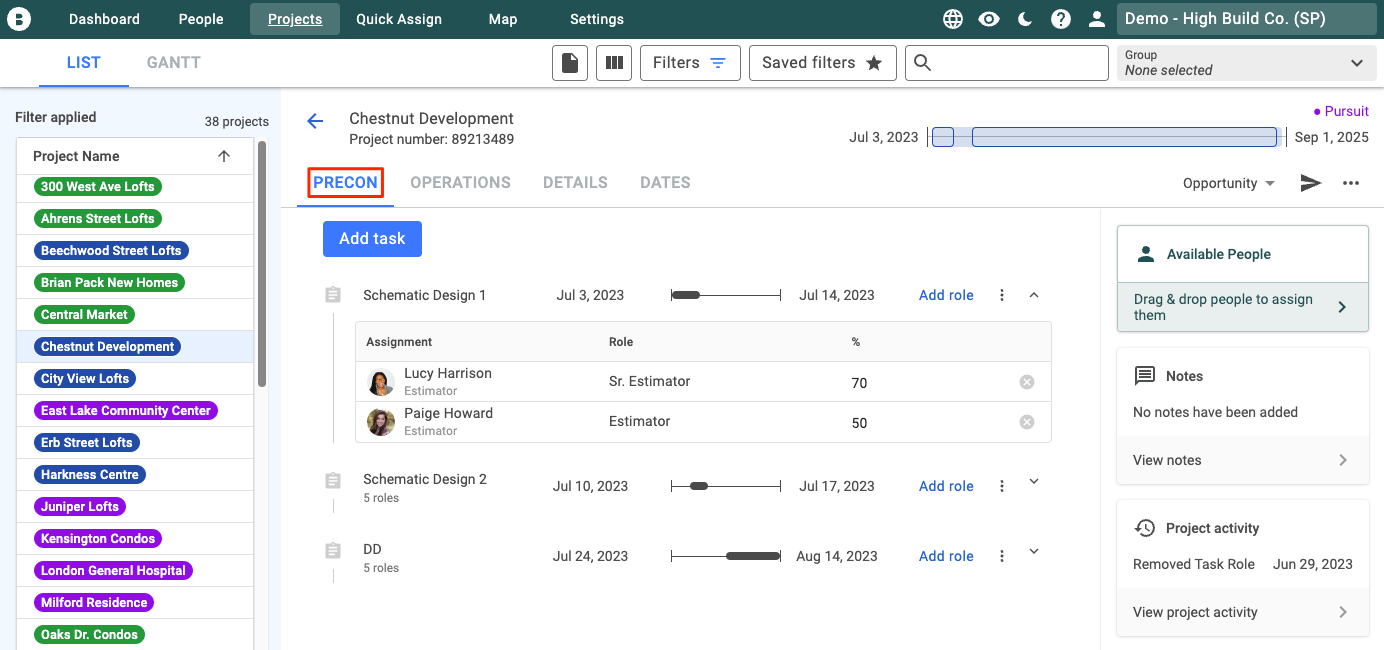 From here you can create project-specific tasks: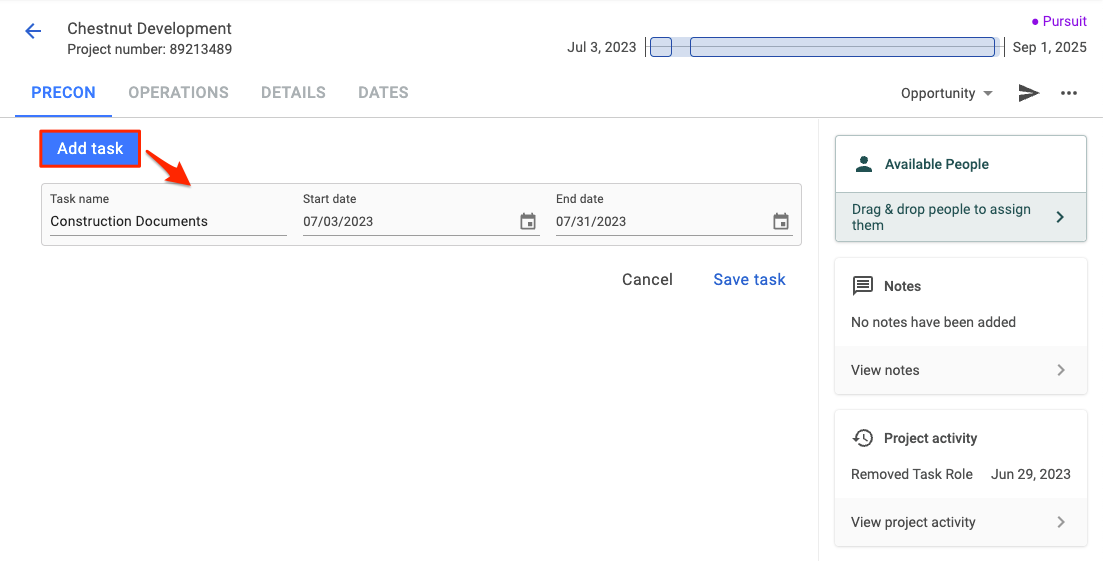 Roles can then be added to the task: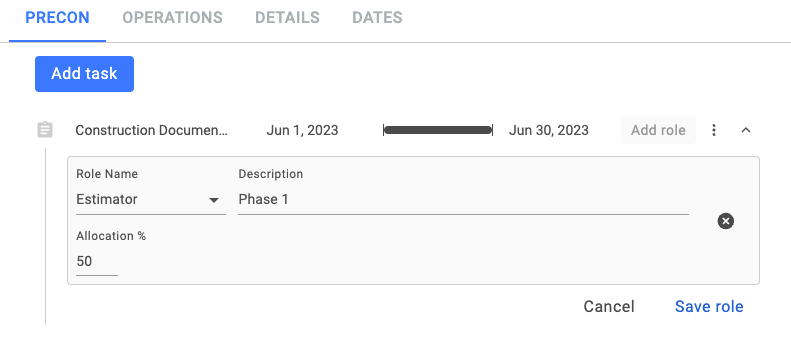 Quickly allocate the right people to roles linked to Precon tasks via your preferred option:
Launch the Place a Person modal by clicking + Place Person under an existing unfilled role
Choose the Save and Assign option to immediately launch the Place a Person modal when creating a new role on a task
Drag and drop someone from the Available People list to either:

Allocate a person to existing unfilled roles linked to tasks
Create a new role on a task and allocate a person in one quick flow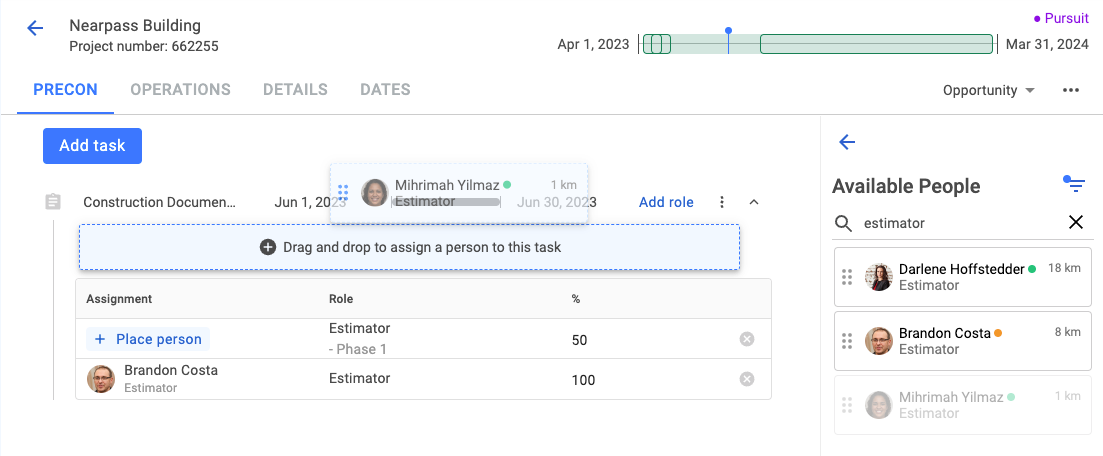 Once tasks have been created and roles added, Precon will allow you to:
Make quick inline edits to names and dates
Shift individual tasks so all roles and allocations linked to them can be updated quickly
Expand & collapse tasks to reduce clutter from your view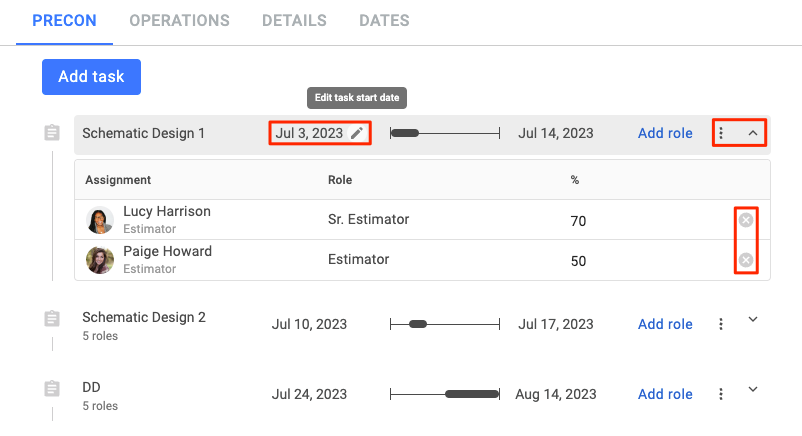 Projects Gantt
The Projects Gantt will allow you to see Precon assignments grouped together under their respective tasks in a cascading view over the project timeline.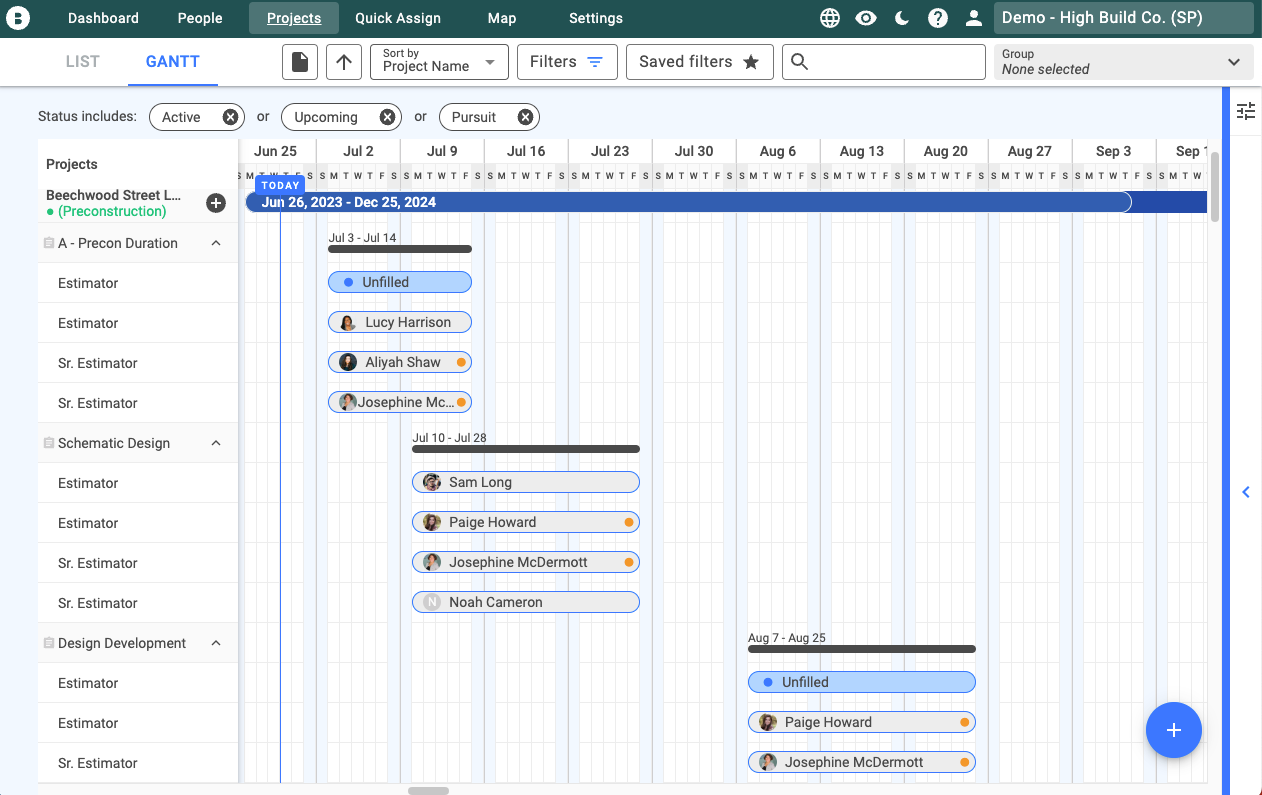 All of the Precon functionality on the Projects List is available under the Projects Gantt including:
Create project-specific tasks and easily edit names and dates
Add roles to tasks and edit them right in the Gantt view
Allocate the right people to Precon roles
Expand & collapse tasks to display only Precon data that is important to you
Use the Gantt Settings to modify what is displayed:
View or hide Precon tasks and their roles & allocations
Apply role filters to Precon roles to see only Current and Upcoming roles or Unfilled roles on tasks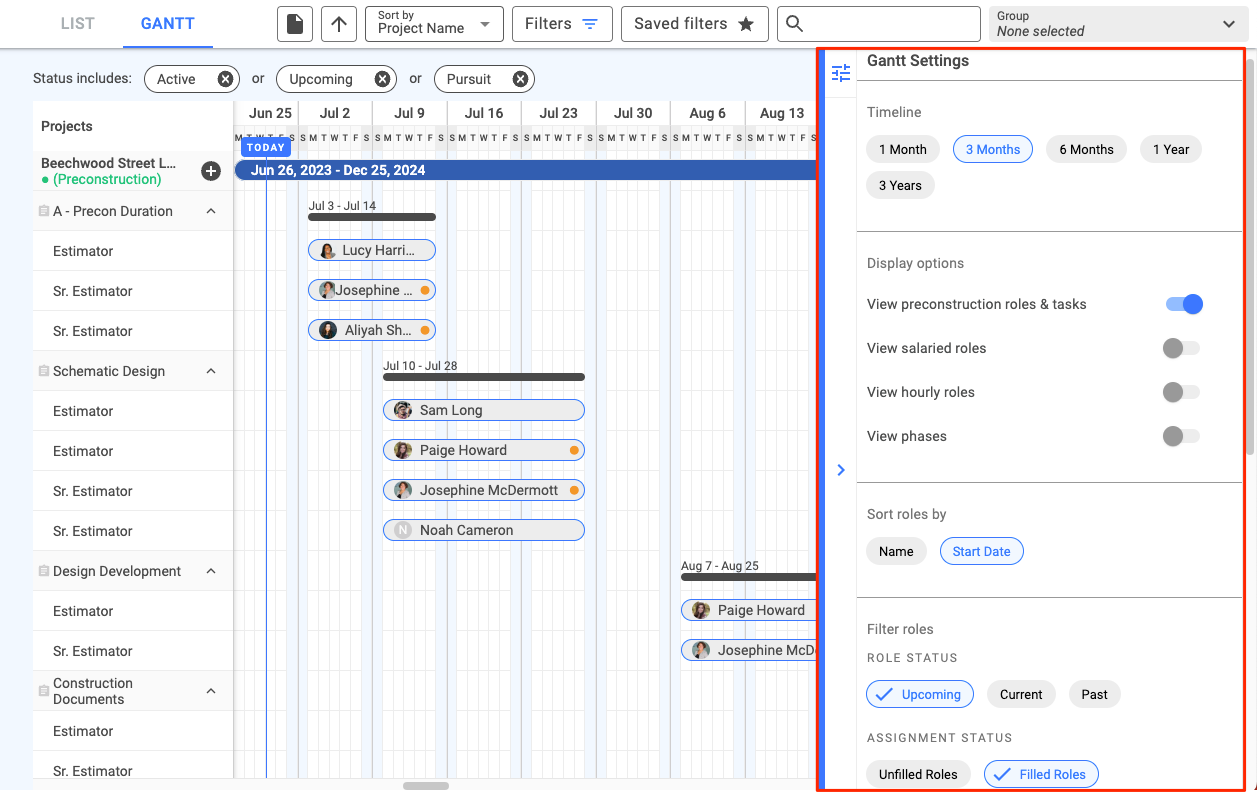 People Profiles
Get a clear picture of the tasks a person is responsible for in their profile: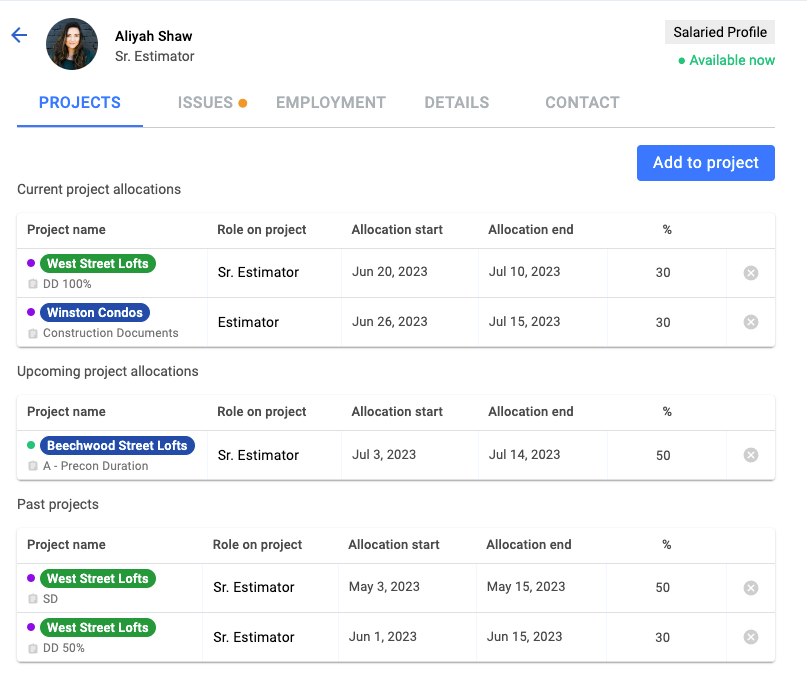 Take a people-first approach to editing Precon allocation percentages as well as removing people from Precon tasks, without having to leave their profile.
Note: Precon allocation dates are not editable from people's profiles. Since the Precon allocation dates are directly linked to task dates, making changes in a team member's profile could potentially affect other allocations.
People Gantt
At a glance, the People Gantt displays what Precon tasks a person is assigned over time with the task details provided in project bars.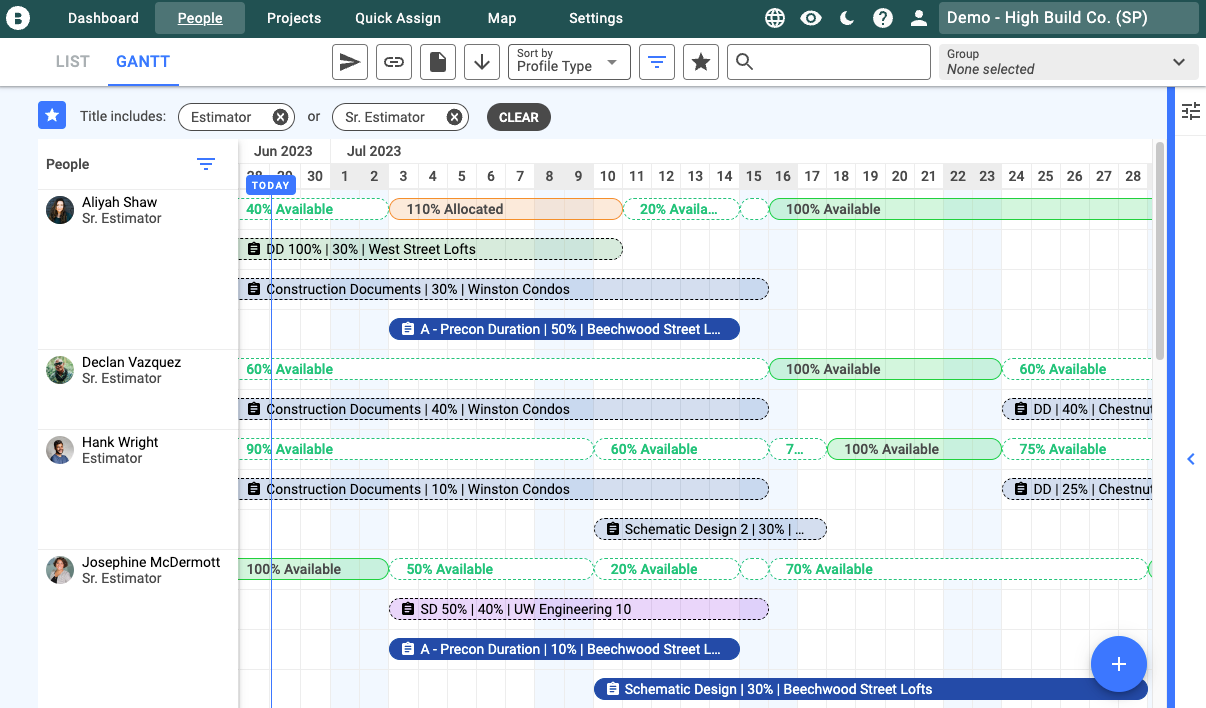 A project bar for a Precon task will display the following info:
A task icon to differentiate between Precon and Operations roles
Name of the task
Allocation percentage
Name of the project

Project bars for Pursuit projects will have a dotted outline and lighter colors for their project bars; Awarded projects have solid outlines and colors.
Unlike Operations roles on Pursuit projects, roles on Precon tasks will be accurately reflected in the team member's Utilization Rate.