With the Broadcast feature, send a message to the entire team through Bridgit Bench. Whether it be to share project updates, outline health and safety requirements, or even share opportunities for teams to socialize.
This feature is different from Assignment Alerts because it sends a message to your whole team instead of a single person assigned to a role on a specific project.
Table of Contents
Broadcast from the Projects
This feature is available for both salaried and hourly assignments (user permissions permitting) and will appear on a project with at least one filled role for users with the Manage Project permission.
Select the

icon to send a message in the project details:

People assigned to roles on the project will appear alongside the role name and assignment dates. If a Project Broadcast message needs to be sent to only active users on a project, select the Current filter beside "Recipients".
In the "Send Broadcast" modal, choose a method of communication, craft the message, and select recipients.
Select Send once the details are confirmed.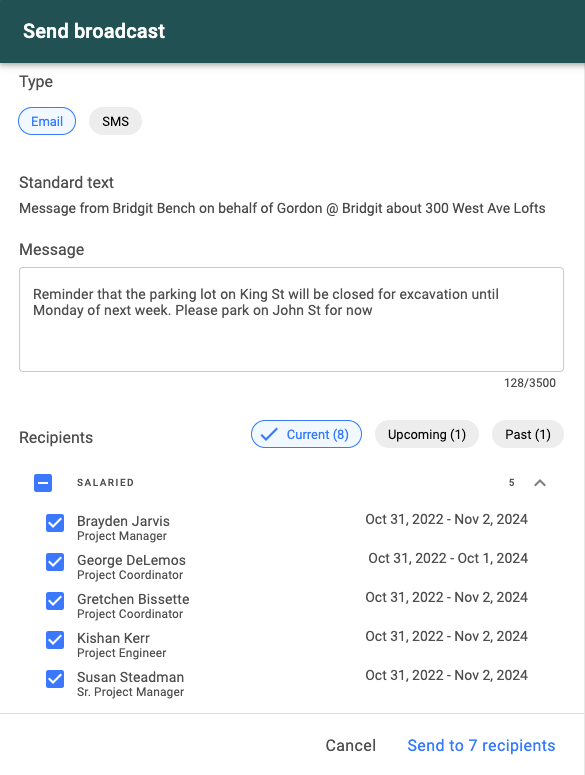 Only one communication method can be selected per broadcast

People that don't have the required contact info on their profile

cannot be included and will be greyed out
Broadcast from the People Section
The Broadcast feature is available on the People List and Gantt views by selecting the
button in the secondary navigation bar:

Broadcasts from the People List or Gantt will go to all team members if no filters have been applied. This can be used to send information regarding non-project-related updates to the entire team.
People Filters can be used if a broadcast needs to be sent to specific people across multiple projects. This can be useful when notifying team members of upcoming training or expiring certifications.
If profiles are missing contact information a notification box will appear at the bottom of the Send Broadcast modal. Those profiles will need their contact information updated in order to receive the email or SMS.

Viewing a Broadcast
Email Message
When a user unsubscribes via email, they are presented with specific communication options they would no longer like to receive.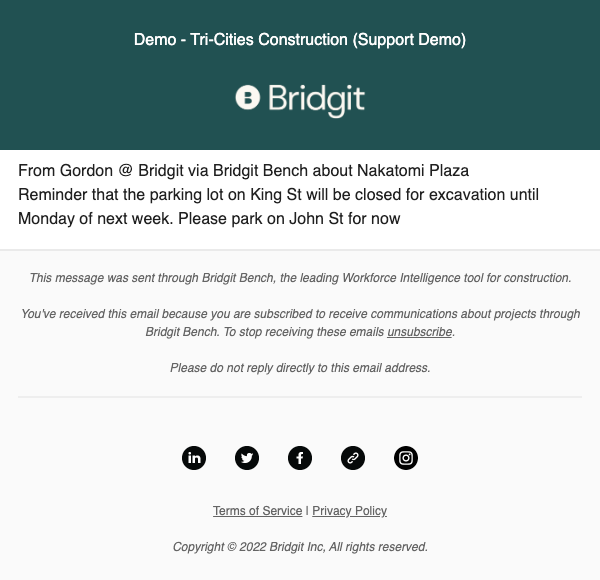 SMS Message
If a user unsubscribes via SMS, they will no longer receive any SMS messages through Bridgit Bench for Broadcast or Assignment Alerts.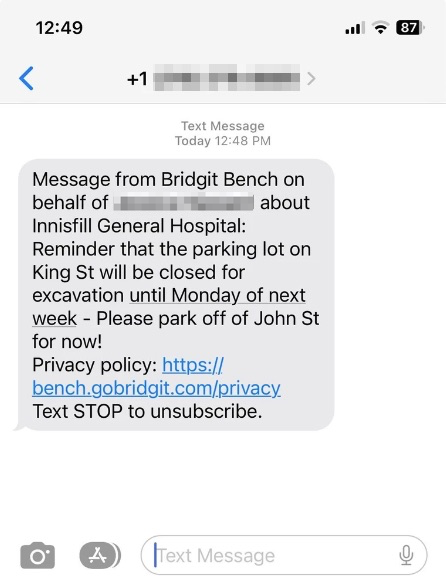 SMS messaging must be enabled for the account in order to choose this message type. To enable this feature for the account, please reach out to support@gobridgit.com